Welcome to Medved® Wheat Ridge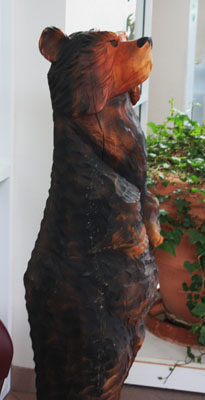 Medved—contrary to popular belief we are not a pharmaceutical company or part of a mega-chain. Our name isn't an acronym or two names stuck together— not MedVed or Med Ved. It is just a capital M followed by all lowercase, two simple syllables which when combined create the Slovak word for "bear" and last name of President and CEO, John Medved.
At Medved Autoplex we strive to serve the Colorado, Rocky Mountain region's every automotive need. From purchasing a new or pre-owned vehicle, to servicing it, and even repairing or renovating it in our renowned body shop, there is no reason to go anywhere else—except maybe to buy gas.
What started out as a single point Chevrolet dealership almost 70 years ago is now a conglomeration of ten different franchises (Chevrolet, Cadillac, Buick, GMC, Ford, Chrysler, Jeep, Dodge, Suzuki, and MV-1) distributed between two easily accessible locations. Just off the I70 and I25 corridors, anyone in the Denver Metro area or even crossing through the state is sure to pass us. Our inventory caters to all needs such as economy, function, luxury, or MPG's. Don't forget about our excellent stock of Pre-Owned vehicles. At Medved we "sell the best and wholesale the rest" to ensure that every Certified Pre-Owned vehicle we send off the lot is quality, but above all safe.
While the structure and identity of the organization has evolved over the years our commitment to customer service and relation has remained the same. That's probably why over 70% of our business comes from repeat or referred customers.
At Medved we take your vehicle purchase seriously. Since we don't have a geographically-based or generic dealership name to hide behind the reputation our business develops reflects directly on us, inside our professional lives or out. That's why we try so hard to create the best all-around car buying or servicing experience possible—we wouldn't put our name on it otherwise.
New And Certified Used Sales

Our full line of vehicles are available for you to look at and test drive. Feel free to contact our customer-oriented staff with any questions or concerns about our New or Certified-Used cars in our Inventory. Also check for any New Car Specials and Coupons, Rebates or Incentives we may be currently offering. Please contact us or call us at (720) 961-5545.
View New Inventory
Medved® Wheat Ridge's Quality Service
Quality Care is the difference between buying the car you love and loving the car you bought. It is the commitment of Medved Wheat Ridge is to provide you with the highest level of service and support possible. In fact, Quality Care is one of the greatest advantages of owning a Medved Wheat Ridge vehicle. Our service department is committed to your complete satisfaction.